Exclusive Offer
All indicators includes 7 days of free access into the Mastermind Trading Room!
Labor Day Sale - 20% off EVERYTHING
This indicator is made up of three components: Market Maker Support & Resistance Levels, Average Daily Range and Color Coded Sessions. When used together, they can help give the discretionary trader more of an edge by providing them with context for the day ahead. Knowing where the major road blocks are, seeing if there is room left in the ADR and knowing what session you are trading in can make a big difference.
BUY NOW
For a limited time, there's 20% off!
BUY NOW
Market Maker Support and Resistance Levels
Current (Lagging) Session High and Low
This level features a unique design in that it remains fixed and doesn't 'jump' when price action takes out a new high/low. When you want the level to be moved to the new high/low, simply hit the F5 key.
Previous Session High and Low
Range High and Low
Asian Range High and Low
London Range High and Low
Previous Close
Fair Value
Pivot Point
Pivot Point Projected Support Levels (S1, S2 and S3)
Pivot Point Projected Resistance Levels (R1, R2 and R3)
Previous Session Fibonacci Range Extensions
Average Daily Range
Shows range for current trading day
Show or hide range for yesterday, 3, 5, 10 and 20 day averages
Show range in ticks or points
Color and position on chart can be customized
Color Coded Sessions
Asian Session
London Session
Pre-Market Session
Initial Balance Session
Morning Session
All sessions pre-set to EST and can be changed to work with other timezones
Name of session, color and opacity for session are fully customizable
Platforms
Ready to use out of the box for Ninja Trader 8
Works with free Ninja Trader (lifetime licence not required)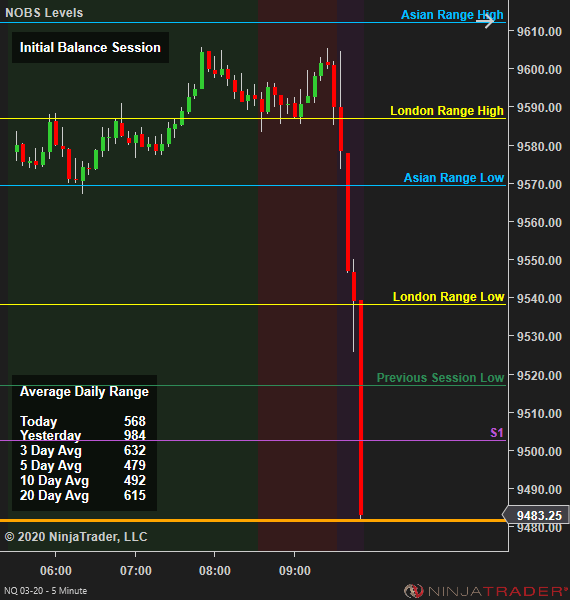 Hover over image for more info
Click on image for more info